Alright.  Day 2.  My lady told me to listen to Duran Duran.  I definitely have heard of the band.  And I definitely have never played their music in my sets!  This should be fun.
After searching online for reviews on what their best album is, I settled on Rio, their second album made in 1982.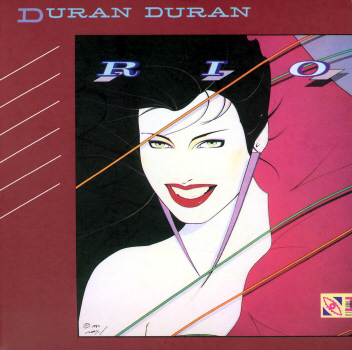 As soon as I started listening, I already knew I wasn't crazy about their sound or style.  If I had to break it down sonically, the mids/highs feel more emphasized than what I'm used to.  The music feels very ethereal and airy relative to the grounded instrumentation of AC/DC.  And there is a lot going on in the arrangements relative to Black In Black as well.
The rhythm doesn't lead the music.  I don't feel much of a groove (at least not the style of this music), which is why I didn't initially vibe with it.
What is prominent to me is the straight 80s vibe: pads, arpeggiated synths, drum sounds, VERB!
I decided to put my thoughts down as I listened to each track.
Rio – Wasn't crazy about this one.
My Own Way – A lot going on…I can hear the disco influences
Let Me In – I like the lyrics.
Hungry Like The Wolf – I remember the melodies here.  I can hear why this is a hit.  Simple.
Hold Back The Rain – Very standout hook
New Religion – Ill bassline.  Feeling this one.
Last Chance On A Stairway – I like the vocal arrangements here.  I haven't heard lyrics like that.  Interesting to follow.
Save A Prayer – Dope synth sound in the very beginning.  Stands out from the other songs to me.  Dope hook and hook vocal arrangements.  Different drum pattern.  Surprisingly, I really enjoyed this one!
The Chaffeur – This got my attention right away, similar to "Save A Prayer."  The synth riff is nice and the beginning half of the song feels like a movie to me.  I liked when the drums came in.  Got a groove that I instantly vibed with.
Now, friends, I cannot lie to you.  As the album progressed, the band grew on me.  The last few songs turned me around and I look forward to listening to more Duran Duran albums!
Because the last two songs drew me in, it makes me wonder when those songs were recorded as they were working on the album!
The album is produced by Colin Thurston, who also worked on David Bowie's Heroes and Iggy Pop's Lust For Life.  I want to hear those albums now to listen for similarities between them all.
This time, I followed along with the lyrics and this proved to be enlightening for me.  As a writer, it opens me to different styles and content.  I find the common thread through all the songs is about love.  Lead singer Le Bon writes in a very poetic way, using descriptive language and painting visual pictures with his words.  Sometimes, he writes as if he is talking to his lover or flame.  I'm not used to that, but it was great to listen to.
Here is my Duran Duran inspired beat.  I wrote a something to it as well.  I may post that later on.  Enjoy!
[EDIT: The next day, I decided to post the song I wrote.  I want to be transparent about this whole process and I want to include you in for the ride!  Enjoy the music.]